Greeting from Founder & Chief Director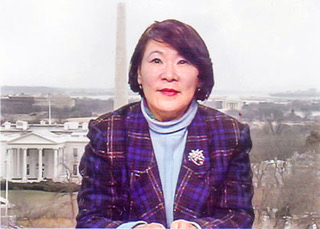 We are members of NPO Discovery Kumamoto; its short name is "Dis-Kuma." One of our main activities is guiding historical sites of Kumamoto, in English to visitors from all over the world. We have been guiding in English since 2007.
We all love Kumamoto, and we would like to tell you about the history and culture of Kumamoto.
We can make your trip much more enjoyable and memorable.
Come and see our historical treasures and have a fun in Kumamoto.
Feel free to contact us.
Another our important activity is Educating Younger Generations to be a volunteer guide in English. For that we have been holding the seminars for elementary students, high school students and collage students. Hope that they will be active globally in their future and introuduce Kumamoto to the world with love and proud of their hometown.
Kyoko Noda
Founder & Chief Director/NPO Discovery Kumamoto
Educating Younger Generations to be a Volunteer Guide in English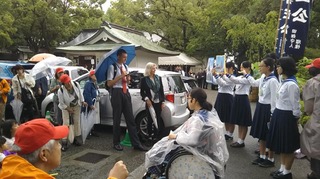 NPO Discovery Kumamoto has been active on the project of educating and training the younger generations to be a future key figure of the tourism in Kumamoto.
We have researched on the historical sites in Kumamoto and guided foreign tourists there in English since our establishment in 2007. Then, we also have been supporting local students of elementary, junior and senior high school to guide tourists around their hometown in English utilizing our experiences.
We hope that they will take a great deal of interest in their hometown and be able to introduce Kumamoto with affection and pride to the world.
Our purpose of this project is to promote the sustainable tourism and vitalize local community in Kumamoto.
The Grand Pride of the "Governor's Annual Award for Tourism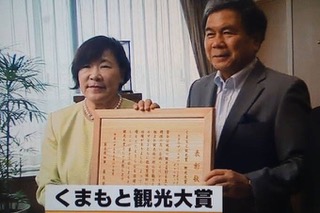 We had splendid news on May 2013. We won the Grand Pride of the "Governor's Annual Award for Tourism"!
We are so delighted and pleased that our efforts in past years to introduce the historical sites of Kumamoto to the world have been recognized and appreciated by officials, including the Governor of Kumamoto Prefecture.
This prize is for us all.
1. promoting tourism in Kumamoto and trying to energize the local community through tourism, and,
2. helping and training the younger generation to find interest in English and in foreign visitors as well as in their hometown, through the experience of guiding.
This award certainly encourages us all: we will continue expanding our activities and reinforce our organization to send out more information on Kumamoto to the world.
This award endorses our activities and objectives: at the same time, we will develop skills in guiding, knowledge of the history and culture of Kumamoto, and improve our conversational English to meet our clients' demand. We should make every endeavor to sustain and develop our organization with the cooperation of all members.
Office
Corporate name

NPO Discovery Kumamoto

 
Address
 

2-14-6 Shimizu-Iwakura, Kita-ku,
Kumamoto-shi, Kumamoto-ken
861-8084 Japan

E-mail

n-tashima@dis-kuma.org